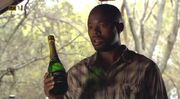 Fatani is a bit of an idiot and a sidekick to Dup. He has always dreamed of becoming a business man but until now has had no luck. He has been unlucky in love and work until Series 5 when he opened up Max's old bar and has fallen in love with beauty contestant Buhle. He is also the former manager of Mara.
Ad blocker interference detected!
Wikia is a free-to-use site that makes money from advertising. We have a modified experience for viewers using ad blockers

Wikia is not accessible if you've made further modifications. Remove the custom ad blocker rule(s) and the page will load as expected.