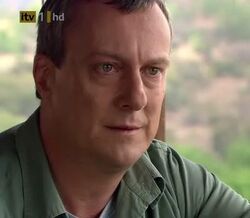 Danny Trevanion (Stephen Tompkinson) is the main character of the series who has the idea to move the family to South Africa. He has been married three times, his wives being Miranda Trevanion (who died of cancer), Sarah Trevanion (died in a bush fire) and his current wife Alice Collins-Trevanion. 
Children: Rosie Trevanion ( Daughter ) Robert Trevanion ( Son )
Evan Adams ( stepson ) Olivia Adams ( stepdaughter ) Charlotte Collins (stepdaughter )
Hailing from Bristol, Danny's life has been one big adventure since setting up Leopard's Den. Working with wildlife has been a dream come true for him - but he soon learned that taking care of ferocious lions and tigers on a daily basis was something quite different to treating domesticated cats and dogs. Moving to South Africa also gave Danny the opportunity to start a new life with wife Sarah, following the death of his beloved first wife. He couldn't believe he managed to find true love again - but daughter Rosie was still grieving for her mum, and her obvious dislike of Sarah threatened Danny's long-term happiness. Two years after moving to Africa, Danny and his family are striving ahead with expansion plans for Leopard's Den.
Danny and Alice named their little boy after danny's father Robert Trevanion
Relationship  - Miranda Trevanion   ( 1st wife , died of cancer ) , mother to rosie
- Sarah Trevanion ( 2nd wife , died in a bushfire ) , mother to Evans adams and Olivia Adams          
- Alice Collins - Trevanion ( 3rd wife ) , mother to charlotte Collins and Robert Trevanion 
Ad blocker interference detected!
Wikia is a free-to-use site that makes money from advertising. We have a modified experience for viewers using ad blockers

Wikia is not accessible if you've made further modifications. Remove the custom ad blocker rule(s) and the page will load as expected.